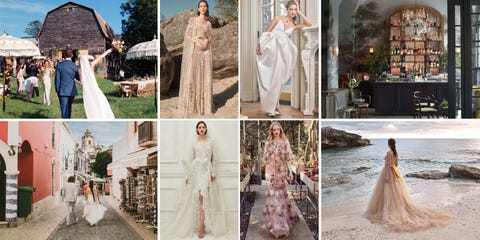 Fact: The venue sets the tone for your wedding, and yes, even the wedding dress. While your chosen destination and location helps narrow down the look you'll wear down the aisle, choosing the best gown for your setting requires a bit of editing and ample imagination. A heavily beaded, high-neck ball gown is better suited for a chateau than the beach, although some full-skirted frocks can be undeniably fashion-forward in the sand. A slim-fit slip feels right for the desert…but so does a frothy nude tulle number.
Rather than sticking to the classic codes of dress for your destination, be inspired by what could suit the style of your chosen backdrop. As wedding season quickly approaches this spring, we rounded up some of the chicest wedding dresses for your upcoming wedding—and how to get creative with your wedding venue in mind, from the homes of the Hamptons, to villas in Lake Como, to the desert of Marrakech, and beyond.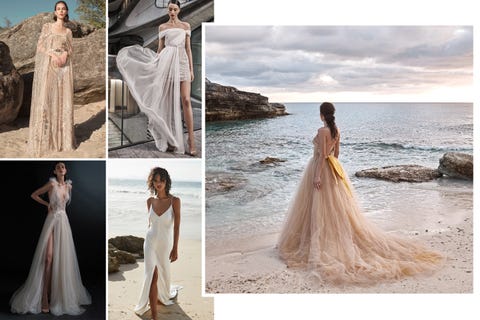 Courtesy; Christopher Ferguson
An archetype long associated with gauzy fabrics, easy silhouettes, and breezy effortlessness, the beach bride should look to delicate appliqués, fine laces, sexy slips and sultry slits and shorter lengths (it is the beach, after all).
For this season's ceremony on the shore, opt for something outside- the-box when you consider how to infuse bohemia into your bridal wardrobe, be it with a point d'esprit lace rather than a formal Chantilly, or a thigh-high slit.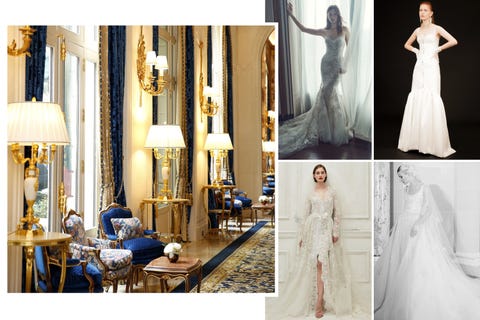 Choose luxe fabrications and a cosmopolitan flair that reflects where you plan to wed and the style of your venue's interiors. A rendezvous at the Ritz in Paris? Tap into velvet or gold accents, rich floral laces, or crystal embellishments. With that said, a modern hotel in Stockholm or Copenhagen requires minimalism and easy fits. Don't go overboard with the bling—it's predictable, and luxe surroundings will do the work for you when it comes to going glam.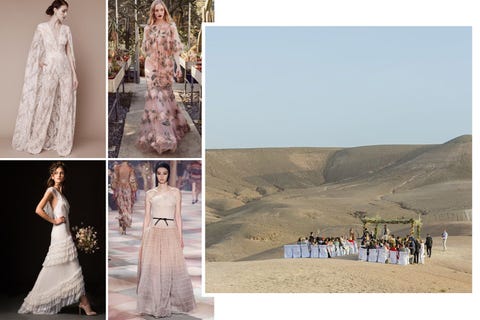 Courtesy; Edward Haynes & Roo Kendall
Texture is the name of the game here—the more, the better. When the landscape is bare, save for sand and prickly cacti, level up your look with strong design details like ruffles, pleating, beaded fringe, and floral appliqués.
Don't be afraid to introduce subtle color for a tonal palette inspired by your surroundings; an earthy color way of nude, cream, muted blush, or ochre sets an elegant yet fashion-forward tone against these landscapes.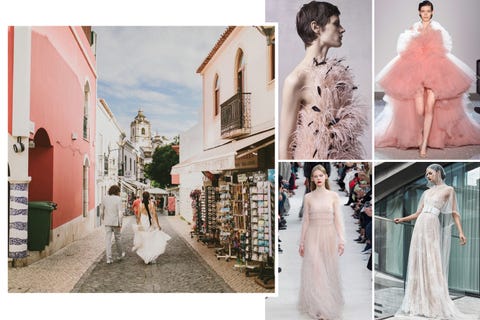 Magdalena Tavares; Courtesy
From the coast of Portugal to the coasts of the Maldives, think bold and adventurous when searching for the dress.
Sheer fabrics will keep you cool in warmer destination climates and playful designs feel unexpected when abroad–especially in romantic blush hues and combined layers of pink tulle. Don't let your destination limit your willingness to take risks: features, illusion, layers upon layers of tulle, and cool takes on capes feel apropos when you've thrown caution to the wind with your choice of where to wed.
5
Your Favorite Restaurant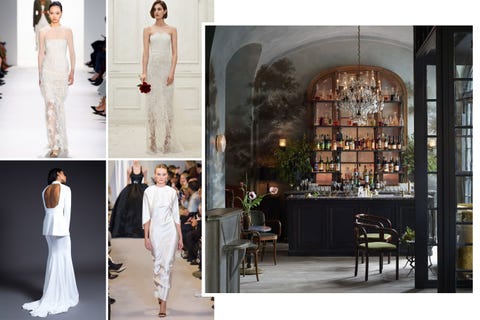 Get comfortable; Silk charmeuse, matte crepe, suiting, and sheer elements define the laissez faire, home-away-from-home vibe you're after when choosing to wed in a place you love to spend time in and frequent often.
With a downtown, gallery-girl feel, think modern minimalism meets elegant bride. Keep your accessories sharp and modern, and opt for a pointed-toe pump, chic mule, or minimal sandal to finish the look.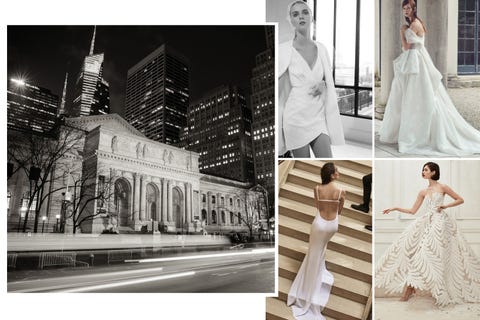 Amongst the city lights and soaring buildings of your city setting, pick formal looks that complement the architecture you first fell in love with.
Opt for a full ball gown with unique design flares, a chic sheath, a slip dress with constructed cutouts, or make it a mini that feels ideal for city hall, or an It-girl ceremony.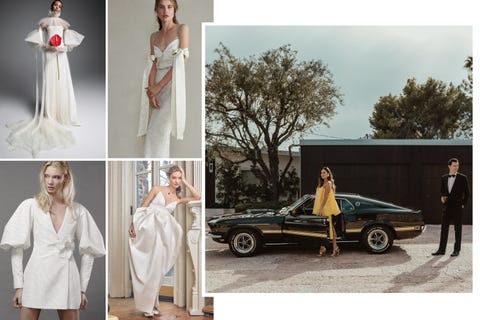 Rather than a classic venue, choose a home that suits your style. Here, choose structured silhouettes over sexy and fitted forms for a look that is effortlessly modern and undeniably cool.
Differentiate a simple style with bold sleeves or oversized pleats, making for a chic statement that will surprise and delight your guests—be it at a Palm Springs estate, an upstate compound, or an up-and-coming loft.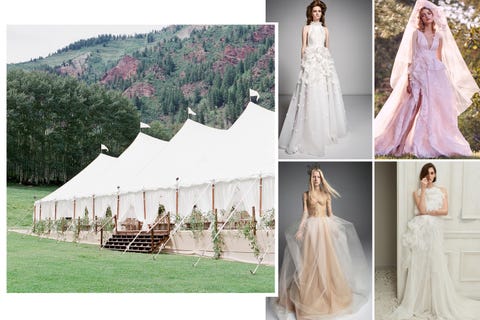 Vineyards, gardens, woodlands, mountaintops, and other open-air weddings require a look that is classic but incredibly dreamy, feminine, and romantic.
Think loads of florals, gossamer fabrics, layered full skirts, and wispy feathers—and those are just a few ways to stand out in the great outdoors. Love color? Here's the best place for a Pantone pop–if you dare.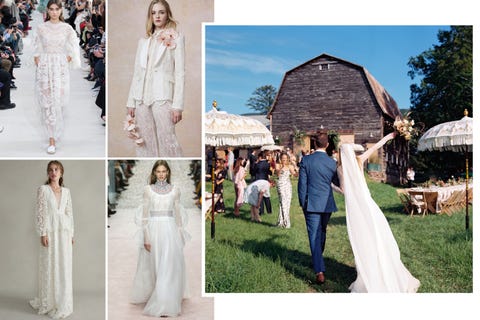 When it comes to barns and backyards, bohemian bridal is not all flower crowns and fringe.
Choose antique laces or smocking for a rustic feel; up the ante with full sleeves, or a '70s vibe. Think new-school prairie with touches of structure for a polished look that is more festive than festival.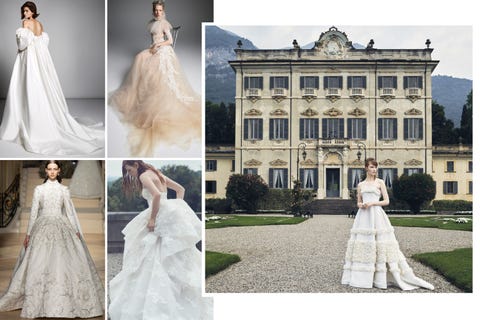 Be it the English countryside, the South of France, the Italian Riviera, or the banks of Lake Como, think dramatic structure with extra impact and the most intricate of details.
Royal wedding-worthy ball skirts, embellishments, and extra-long trains make this look fit for a spring queen. When it comes to wedding in a palace, chateau, or over-the-top villa, take styling nods from the overall vibe of your venue: Go big or go home.